The THINKY PR-1 Nano Pre-mixer for nanoparticle dispersion and deagglomeration of CNT, graphene and other 2D nanomaterials is a patented design using a unique dual ultrasonic system to uniformly disperse nanomaterials before mixing into other materials.
Nanoparticle Dispersion Machine for the Deagglomeration of CNT and Graphene
How the Nanoparticle Dispersion Machine works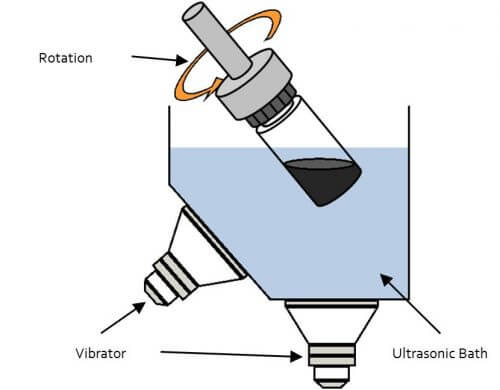 THINKY PR-1 nanoparticle dispersion using a dual-sonic system and controlled rotation
The THINKY PR-1 combines a system of two ultrasonic generators for multi-directional ultrasonic vibrations, with a controlled rotation of the container in the ultrasonic bath. This results in an even dispersal of the nanoparticles within the vial, with none of the poor results associated with normal ultrasonic baths or homogenisers, which can have dead spots or uneven energy areas.
The THINKY PR-1 has a temperature limit control in the ultrasonic bath to counter the temperature rise of water and materials as a result of ultrasonic energy, avoiding changes in physical material properties. The system is compatible with quantities as small as a 5ml capacity vial to a 200ml capacity stainless steel container also compatible with the THINKY ARE-250 mixer to allow for a smooth process and reduced contamination from deagglomeration to mixing into a material.