Accessories Precifluid
Droptube case
DropTube is the case which locks firmly the position of the syringe on the adapter. It exists in 3, 5, 10, 30 and 50cc according to your gun and is adaptable on request.

References :
3CC : BDET003
5CC : BDET005
10CC : BDET010
30CC : BDET030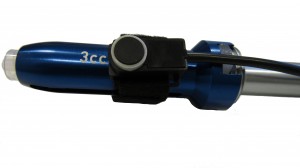 FingerDrop finger switch
The FingerDrop finger switch replaces the pedal and connects directly to the Prefluid. The FingerDrop is equipped with a scratch which allows it to adapt to all syringe sizes.
Reference :
PDS-CAD

DropDock gun holder
The DropDock holder gets a stable and useful preservation of the gun of the volumetric dispenser, facilitating its use. This one is entirely designed in aluminum.

Reference : 
PDS-SDP

Extension Gun
Availables in 2 sizes : 1,5m and 3m.
References :
1,5m : PDSRL1,5M
3m : PDSRL3M