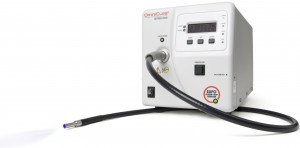 Recognized as the global leader in bonding systems for precision assembly with light-cured adhesives, the OmniCure® S2000 provides the power, control and repeatability required for high-speed automated manufacturing assembly.
Offering a powerful 200 Watt lamp with a guaranteed life of 2000 hours, the OmniCure® S2000 also offers Closed-Loop Feedback technology and a flexible PC software interface for computer-controlled operation. When combined with OmniCure™®'s R2000 Radiometer, the OmniCure® S2000's precision and reliability is unmatched. The OmniCure® S2000 is also designed to adhere to regulatory validations and is RoHS compliant.
OmniCure™ S2000 specifications are:
I/O ports for automation
200 W Lamp with 2000 hour guarantee (200 Watt Intelli-Lamp®): The powerful 200 Watt Intelli-Lamp® provides even faster curing with high UVA irradiance of up to 10W/cm2. With automatic lamp hour tracking and broad spectral output, OmniCure™®'s patented technology makes the OmniCure® S2000 suitable for a wide range of adhesive/substrate bonding applications.
4000hours Typical Lamp life
Progammable cure profiles with step cure Lamp Technology
25W/cm2 Typical Output
Iris adjustment in 1% increments
Fast Shutter Activation: The OmniCure® S2000 is equipped with a fast shutter activation time, providing a maximum trigger shutter activation latency of only 50ms in PLC mode.
Downloadable StepCure®: StepCure® software can download a customized multi-phase cure profile directly to the system. Previously only available when connected to an external Desktop PC, this option offers users greater cure control.
Closed-Loop Feedback: Over time, lamp intensity diminishes effective curing. The OmniCure® S2000 internal intensity sensor monitors light output in real time and opens the iris to automatically correct light output within +/-5%, ensuring repeatable and measurable doses of energy every time.
Intelligent Automation: Easily integrated into automated systems, the OmniCure® S2000 is ideal for automated processes, minimizing development time. The system can be programmed and controlled externally from a PLC, with or without an external dongle. PC software and commands are included with the system.