Precifluid volumetric dispenser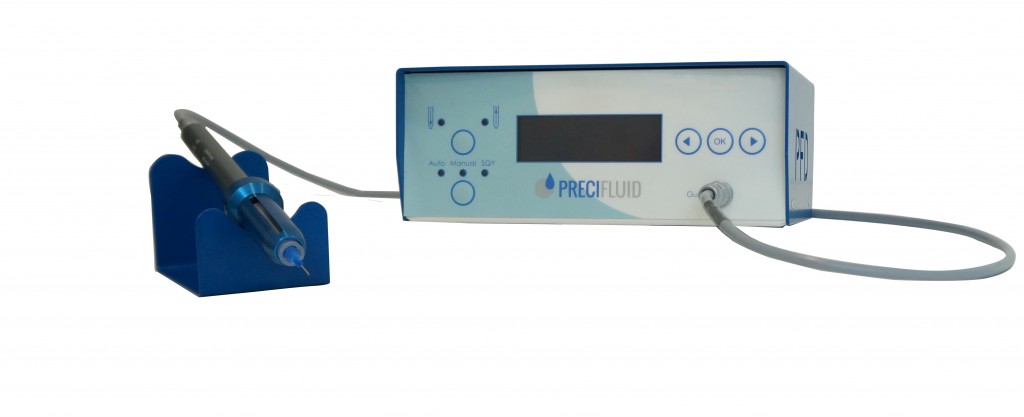 New comer in the PDS product range, the PRECIFLUID is a compatible volumetric dispenser with all sorts of fluids (from the most liquid to the most viscous ) combining velocity and accuracy while keeping simple and ergonomic structure.
Conceived and made in Switzerland, the PRECIFLUID is impervious to viscosity variations and temperature of fluids thanks to it electromecanic movement which secures an optimal precision of deposit whatever the conditions.
Three models : Standard –integration kit – Console
Three versions : 3, 5, 10cc – 30cc – 55cc
minimum volume of 0,06 microliters
Capability of push > 500 000 cps7
Touch-screen instincitive utilisation

Weight limited to 100 gr

Anodised aluminium design

Setting by magnetic system

Adjustable to cartridge of 2,5 oz  and specific containers

programmable sequences
By the action of a linear step by step engine which makes the movement of a volume of product in a repetitive and checked way, this range goes beyond the limits of the pneumatic systems of dispensing (at least seven times more accurate) and allows deposit outstandingly smaller than most of the volumetric dispensers on the market with a minimum volume going to 0,06 microliters.
This patented dispenser is the only one which can ensure you volumetric deposit with such a precision. Besides its exceptional performances, the use of the volumetric dispenser PreciFluid remains very instinctive. Sequenced by programs beforehand recorded, its pushes are regular and constant. You just have to enter the digital volume and the velocity which you wish to make the dispensing so that the dispenser handles calculations.
 PreciFluid™ accessories :
 

BarrelDrop™ syringe

The syringes BarrelDrop designed for the high performance are available 3cc 5cc 10cc 30cc and 55cc and are certified without silicone. Exist in transparent for the normal fluids, in amber for the fluids sensitive to UV and black for those who are photosensitive visible.

 

DropTips™ needles

DropTips needles are available in size 14G to 32G and are certified without silicone. They arrange the same code colors than the standard PDS one.

 

DropTube™ case

DropTube is the case which locks firmly the position of the syringe on the adapter. It exists in 3, 5, 10, 30 and 50cc according to your gun and is adaptable on request.

 

 PistonDrop™

PistonDrop gives you an optimal push of your fluid, contained in BarrelDrop. It also has a magnetic fixation in the gun which allows a maximal stability.

 

DropDock™ gun holder

The DropDock holder gets a stable and useful preservation of the gun of the volumetric dispenser, facilitating its use. This one is entirely designed in aluminum.

 

Extension Gun

Availables in 2 sizes : 1,5m and 3m.