Epoxies

Epoxy Technology offers a full range of electrically and thermally conductive epoxy adhesives for the semiconductor, optoelectronic, automotive, aerospace and electronic assembly industries. Their extensive product line allows engineers to select material with the best combination of physical, electrical and thermal characteristics.
Epoxy Technology, Inc. was founded in 1966 as the world's first supplier of electrically conductive epoxies for use as die-attach adhesives in hybrid microelectronics, semiconductor packaging and assembly. Chemical engineer Frank W. Kulesza, the President, first formulated these precious-metal-filled materials as a consultant for IBM.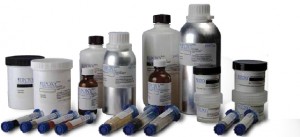 Since then, the growth of Epoxy Technology, Inc. has been fueled by the rising use of die-attach epoxies. But Epo-Tek® expertise in manipulating epoxy compounds has also resulted in a continual broadening of product line over the years.
In addition to the company's comprehensive family of materials for the semiconductor and hybrid fields, they now offer products suited for a wide array of applications in fiber optics, optoelectronics, medical devices and solder replacement.
During recent years, Epo-Tek®'s continuing commitment to develop innovative adhesive and coating technology for high-tech manufacturers has resulted in the patented polymer flip chip (PFC®) technology, as well as numerous new materials optimized for uses in the industries we serve.
  Epotek Selector Guide
  Epotek Selector Guide - Special Epoxies, UV et UV Hybrids