OmniCure UV LED Surface Curing
OmniCure AC5 Series UV LED Curing Systems
Omnicure AC8225-F+/AC9225-F UV LED Curing Systems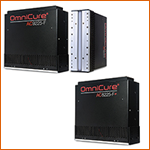 The OmniCure AC8225-F+ and AC9225-F UV LED curing systems are specifically designed for fiber curing applications. Featuring a custom optical design to enhance output and optimize delivery of UV onto the fiber, these systems provide an air-cooled, high output solution to meet the market demand for increased process speeds.
OmniCure AC8-HD Series UV LED Curing Systems
OmniCure AC9 Series UV LED Curing Systems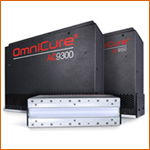 The OmniCure AC9 Series are high-power UV LED Curing Systems delivering over 14 W/cm2 peak irradiance for fast curing of inks, adhesives and coatings. The AC9 Series' innovative design features a high-performing, small form-factor, air-cooled solution to enable fast line speeds in industrial manufacturing and printing.